We have an exclusive treat for you today, in part four of UK50, our mission to find your favourite UK Eurovision entries.
Paul from Glasgow
(and
recently of Dale's Supermarket Sweep
) was first into the comments box earlier today, where he chose the letter N at random. Well, I say 'at random' in that
he
made the choice. However, I suspect that we have been second guessed, dear reader. Paul, being an active member of the messageboard on
Nicki French's official website
, probably thought he had unravelled the mysterious workings of Chig's mind and supposed that, if he chose 'N', my comedy persona for today would be in the guise of Nicki French.
Hmmm. As if we'd be
that
obvious! You lot deserve much better than that. So, I can exclusively reveal that today's tracks have been chosen, on the phone today, by the UK's Eurovision representative from Stockholm 2000, the real Nicki French herself! Hurrah! Hurrah! Thrice hurrah!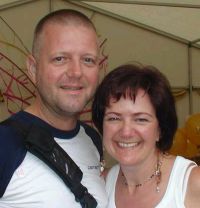 Taking a break from rehearsals, as they say in the papers, for a play she's doing, Eurovision fan and performer Nicki was asked by me to name three songs to do battle today. She immediately chose Congratulations by Sir Clifford of Richard as "one of the biggies", and then chose Lulu, because, "it was Lulu who got me into singing". So, a winner and a second place from the sixties, then Nicki's third choice of 'Love Games' by Belle & The Devotions from 1984.
Thank you Nicki, and we look forward to hearing your own entry whenever someone picks that medley. But who knows when that will be?
So, which song do you want to play again? The one by the man who hid in the toilet after performing this as favourite, only to be beaten by a Spanish girl singing 'La' about 121 times? The one by the wee Scots lassie who is 'pounding away, pounding away' for all she's worth? Or the Motowny one by the Toto Coelo wannabes after they've escaped from a lime green bin bag factory? One of them will make our last sixteen. The choice is yours.
UK 1969 – Boom Bang-A-Bang – Lulu
(Joint winner, with three other songs, from sixteen.)
UK 1984 – Love Games – Belle & The Devotions
(7th of 19 songs.)
UK 1968 – Congratulations – Cliff Richard
(2nd of 17 songs, losing by one point.)
You can download my extra special medley of
Group Nicki here
, or perhaps I should call it 'Group French', as this medley includes an additional version of Lulu doing her song in the language of Nicki's surname. How more appropriate could we damn well get, dear readers? Please don't judge Lulu on this version, but on the English version. Do feel free, however, to judge the Glasgow education authorities of the 1960s on the standard of French pronunciation in Lulu's school. I'll say no more.
You can also watch the performances below, then please vote in the comments box as follows;
12 points: your favourite
6 points: your second favourite
0 (nul points): your least favouriteUK 1969 – Boom Bang-A-Bang – Lulu:UK 1984 – Love Games – Belle & The Devotions:
Note the booing at the end.
UK 1968 – Congratulations – Cliff Richard:
Labels: Group Nicki, UK50
·
link