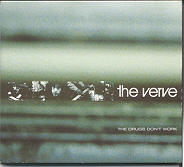 "Like a cat in a bag, waiting to drown, this time I'm coming down"


[773] Writer: Richard Ashcroft. Producers: Martin 'Youth' Glover & The Verve.
13 Sep 97 – 13 weeks on chart – 1 week at #1; 13 Sep 97
Almost as compensation for the modern classic
'Bitter Sweet Symphony'
NOT reaching #1, the less good follow-up snuck into pole position instead. 'Bitter Sweet Symphony' had marked a complete turnaround for The Verve (formerly known as Verve before it caused legal problems).
Five hit singles had slowly been making more and more impact on the charts, after minor hits at #66 and #69, they were creeping up; #35, #28 and #24. Then 'Bitter Sweet Symphony' made it all the way to #2, but was denied by Puff Daddy's residence at the top.
The follow-up was 'The Drugs Don't Work', and Noel Gallagher's old mate and his band entered at #1, deposing Will Smith's 'Men In Black' theme after 4 weeks. It eventually went silver (250,000 sales), but The Verve never stood a chance of holding on. Diana had died the day before The Verve's single was released, so they actually had the best-selling single in the seven days immediately following her death. They were declared #1 on the day after her funeral, but Elton John's single was already on its way. They never stood a chance of holding on.
The Verve had only one 'proper' hit after this;
Mike
's favourite 'Lucky Man', which made #7. Another track from Urban Hymns, 'Sonnet' crept in for a week at #74 on import, but the story was over. They split up and the human fly went on to be quiet for two years, before launching a successful solo career with #3 hit, 'A Song For The Lovers'. He released his second solo album, 'Human Conditions' last week, entering on Sunday at #3.
'The Drugs Don't Work' is David H's #3, with the succinct comment, "Incredible lyric."
It's also Dan C's #8. "The drugs don't work," he says, "and they know, because they tested them all."
By way of celebrating this achievement at #16, Richard Ashcroft has his own programme on C4 tonight.
Jump to the next song.
Jump to the previous song.
·
link